ENGINEERING AND DESIGN
With strong roots in the Danish design and craftsmanship tradition we hand build each turntable with care and a continuous focus to produce beautiful and long lasting turntables.
Our turntables are constructed using different materials to keep the sound as pure, vibrant and exciting as possible. The overall goal in this process is to avoid the transfer of unwanted vibrations from the turntable, meaning the plinth, platter and motor into the stylus and to keep the platter running at a stable speed, avoiding wow and flutter.
We love the analogue sound and are passionate about bringing that special vinyl sound to your living room for you to explore the world of true analogue sound
The plinth or the base on our standard models consist of a sandwich construction of plywood, MDF and birch plywood and with veneer on top. This mixing will dampen vibrations very efficiently and it is the same principle, which is being used in the construction of soundproof walls. The materials we use are very stable and consistent, which makes them great for audio equipment.

The Platter
We use an acrylic platter, made from one piece. Acrylic has a high density and low stiffness, which is great for minimizing unwanted vibrations. This will give you far better details and clarity in the music during playback. As a bonus it also allows you to see the beautiful wood veneer when the turntable is not in use.
The Tonearm
We use a modified Rega 220 tonearm. This is simply one of the best tonearms in its price range, a classic arm that is hard to rival.
The Motor
We have chosen a Premotec motor driving a metal subplatter. This is the same motor that is being used by Rega and Linn – two of the giants in the turntable business. To minimize unwanted vibrations from the motor we use Sorbothane in between the motor and the plinth. Sorbothane is one of the best materials to isolate vibrations and damp any unwanted noise. We also use Sorbothane feet to minimize vibrations from the underlying surface.
We build our turntables to last for many years to come and each part can easily be replaced or upgraded
THAT MAGIC VENEER
We use exotic wood with beautiful veining and vivid colours, which are almost pieces of art in themselves.
The veneers on our turntables are taken from Save the Rainforest Project (SaRaiFo). With this we help to relieve some of the tropical tree populations and protect them. SaRaiFo wood veneers are made from peeled veneer of very fast-growing wood species and are processed in a special way making them perfect for our turntable production.
However we do use other veneers for our custom made turntables.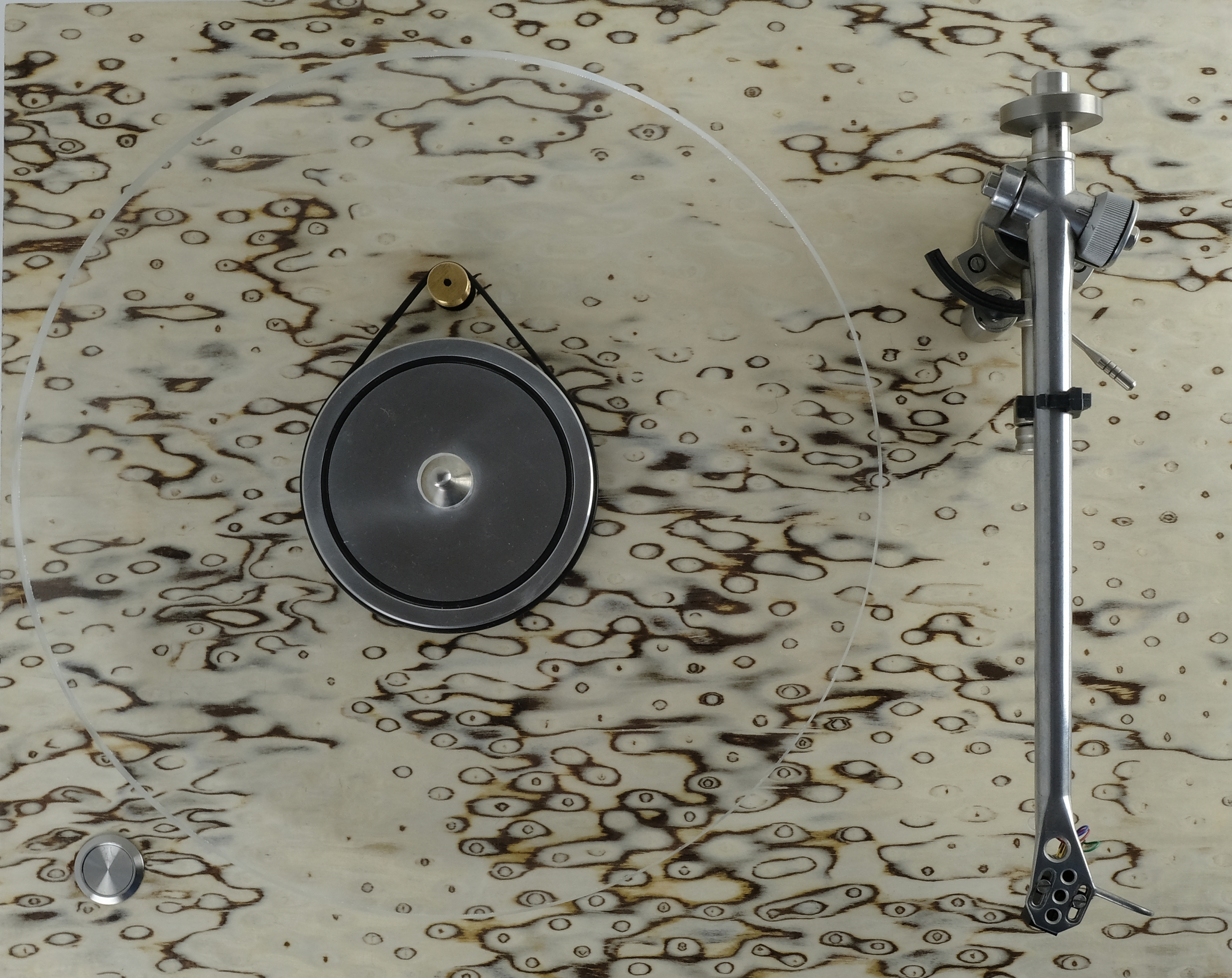 BUILD TO LAST FOR DECADES
We are committed to a continuous transformation and development in the striving of creating amazing turntables.
Each turntable that we build is made in an effort to create a piece of technology and furniture that will amaze you and stay in your home for years to come.